Helpful Resources
Getting Started
The National Labor Relations Board (NLRB) is comprised of a team of professionals who work to assure fair labor practices and workplace democracy nationwide. The NLRB Public Website is a resource for lawyers, judges, journalist, and the public.
This Helpful Resources page is designed to acquaint users with layout of the homepage, how to login, and the many features of the website.
Basic Navigation
The following information provides a basic framework for navigating the NLRB Public Website.
Home Screen Elements:
1. User Menu
2. Eyebrow Menu
3. Search
4. Download Tray
5. Board Decisions
6. Latest News
7. Latest Announcements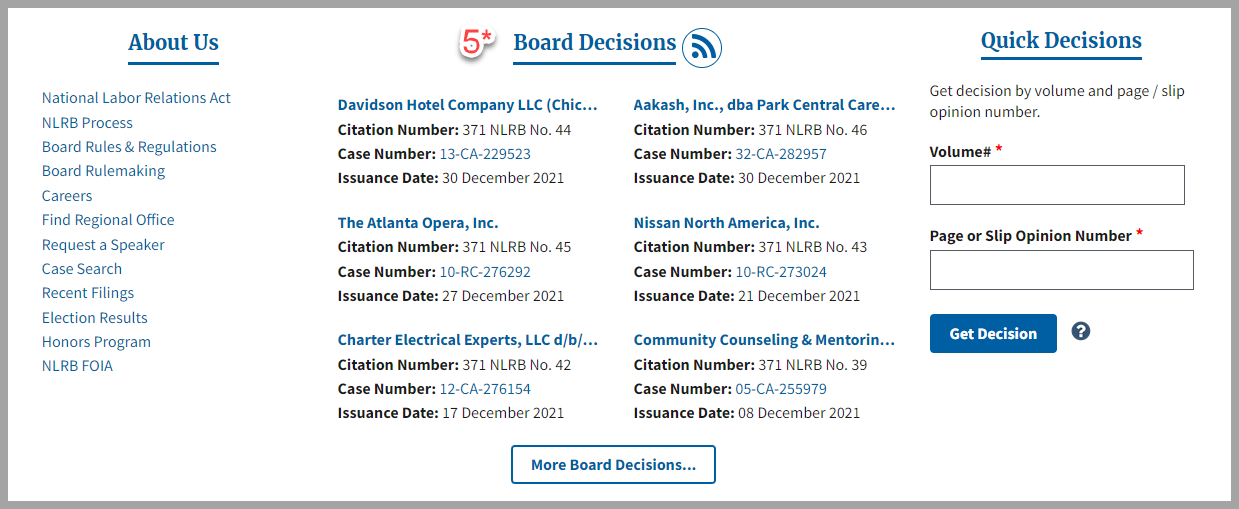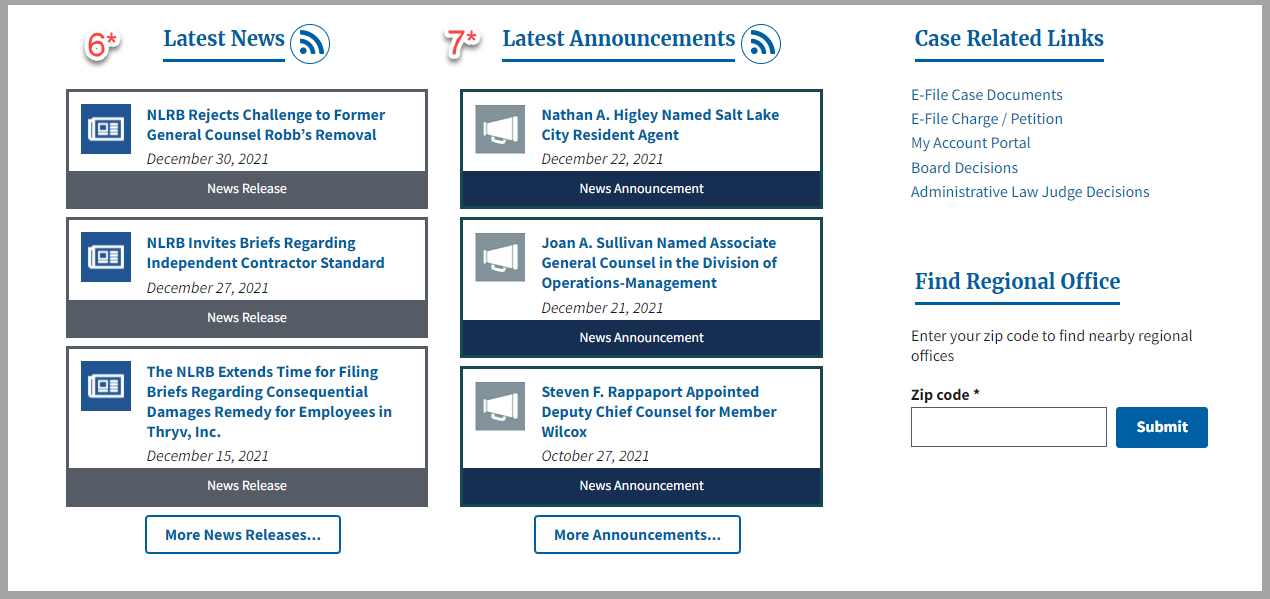 User Menu - Here you can take a look at who the NLRB is, what they do, and the rights they protect. You can also look into different cases and decisions. The News and Publications section is the place to find news about significant cases, settlements, complaints and decisions, as well as background material on the Agency and its leaders. You can also get access to guidance as well as reports generated by the NLRB.
Eyebrow Menu - This menu is where you can get quick access to the Regional Offices, FAQs, and the all the contacts at the NLRB. For our Spanish users, you can click on Español to view the entire website in the Spanish language. Lastly, you can sign into MyNLRB and add more personalization to the site.
Search - Clicking on search will let you look up any case. You can actually search for anything on the public website, like agency information, decisions, news, memos, motions, and weekly summaries.
Download Tray - This is where your larger data sets will show up so you can continue to use the site while they download in the background.
Board Decisions - Online NLRB decisions are offered in PDF format.
Latest News - News releases are issued in cases of national significance and to announce initiatives of the Board and General Counsel. Regional news highlights cases and initiatives of significance in the NLRB's regional offices.
Latest Announcements - Announcements are notices of personnel and other administrative changes at the NLRB.
Login.gov Account Setup
The NLRB's Public Website uses login.gov to manage your MyNLRB account and personalize information on the website. Please check the following link for Login.gov Account Setup Instructions.
How to Login
To sign in or create an account, locate and click "MyNLRB" in the top right corner of the public website.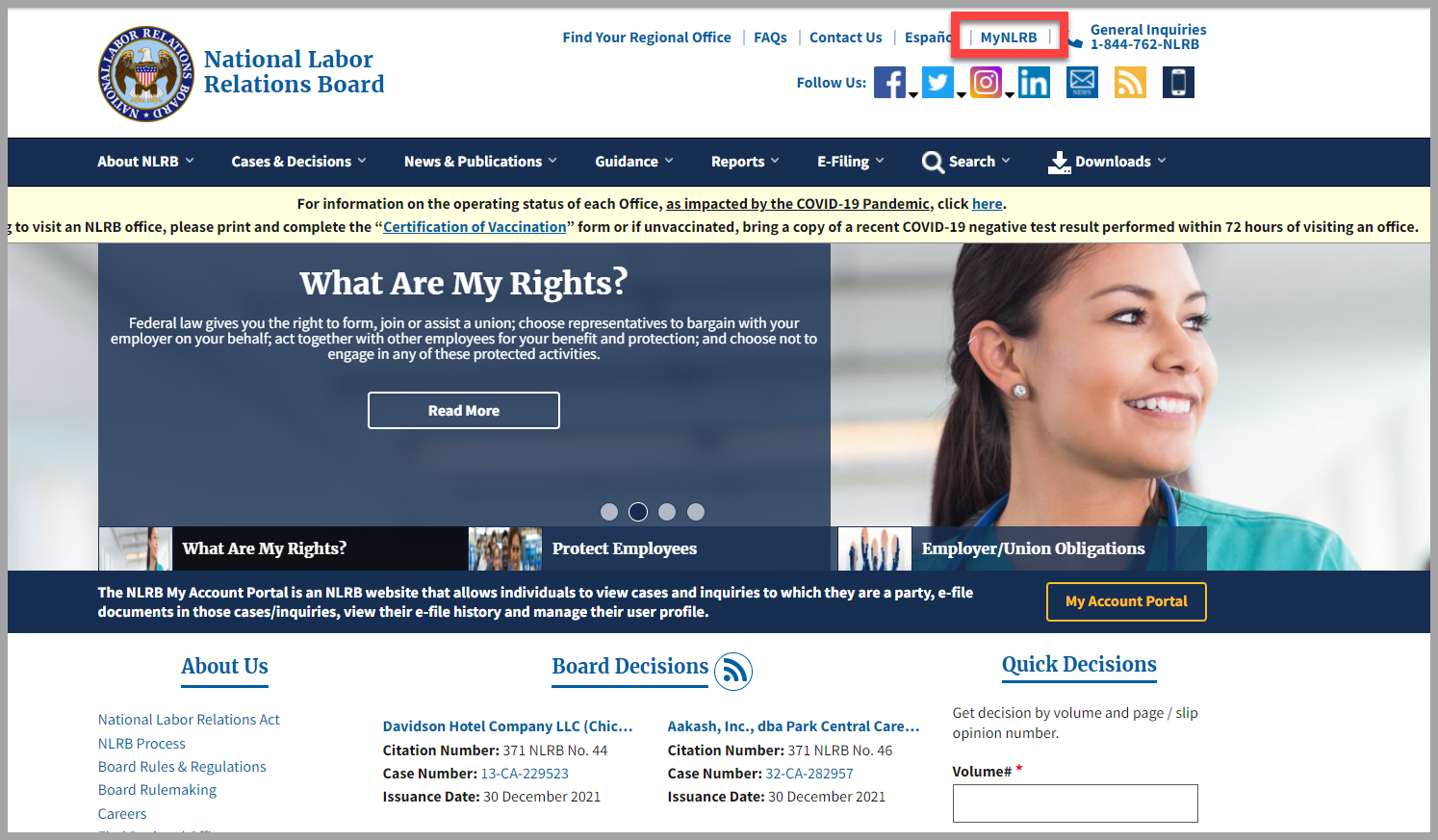 You will see a pop-up, then click "Sign in with Login.gov". You will automatically be redirected to the login.gov login page.

Instead of making you sign-in with another set of username and password credentials, login.gov allows you sign-in with your own credentials. Yahoo, Google, etc.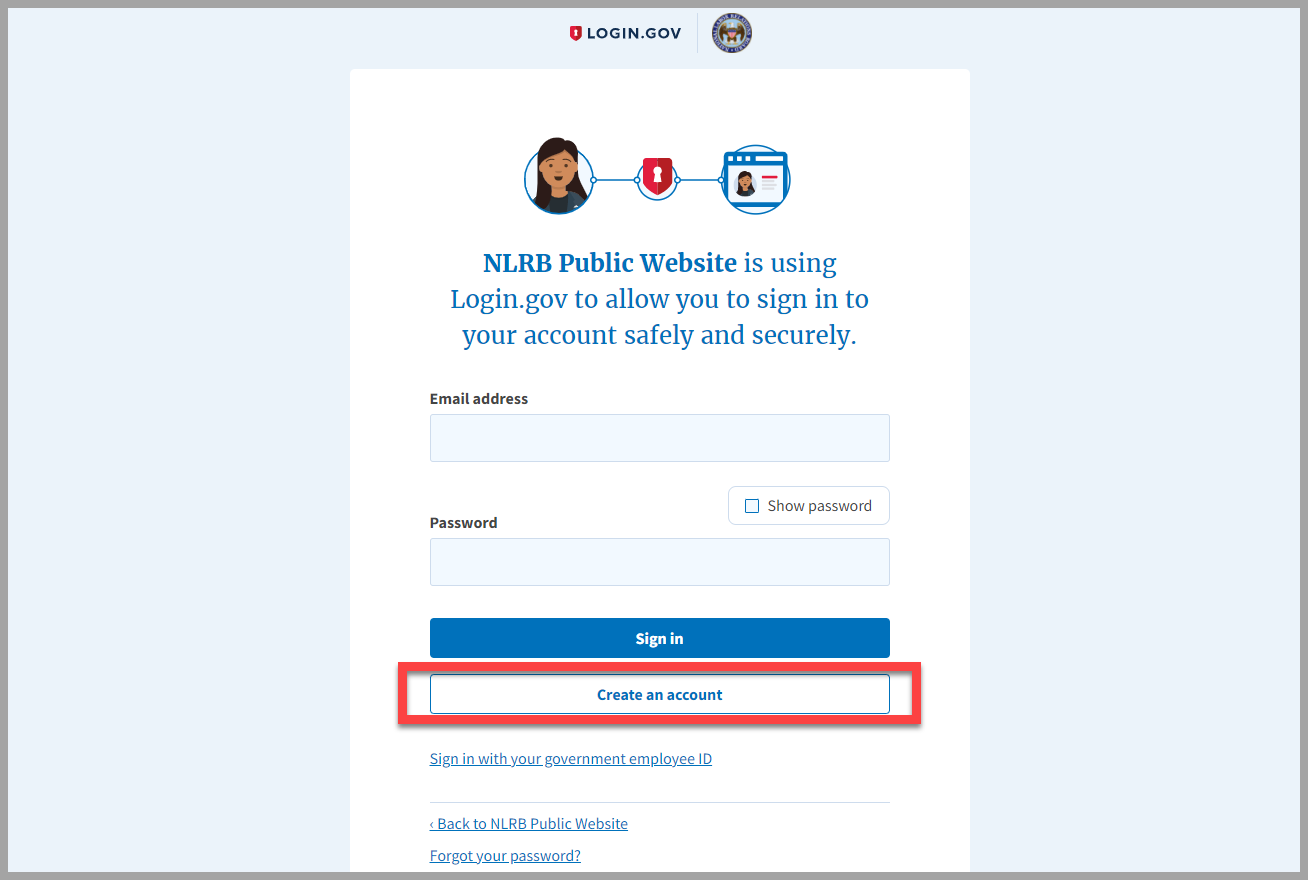 If this is your first time signing in, you will need to create an account. If you are a government employee, you can create an account using your Personal Identity Verification (PIV) card. If you create your account with your PIV card, you can use it to sign in each time. 
You can also create an account using your email address:
1.           Enter your email address
2.           Select your language preference
3.           Check the login.gov Rules of Use box
4.           Click Submit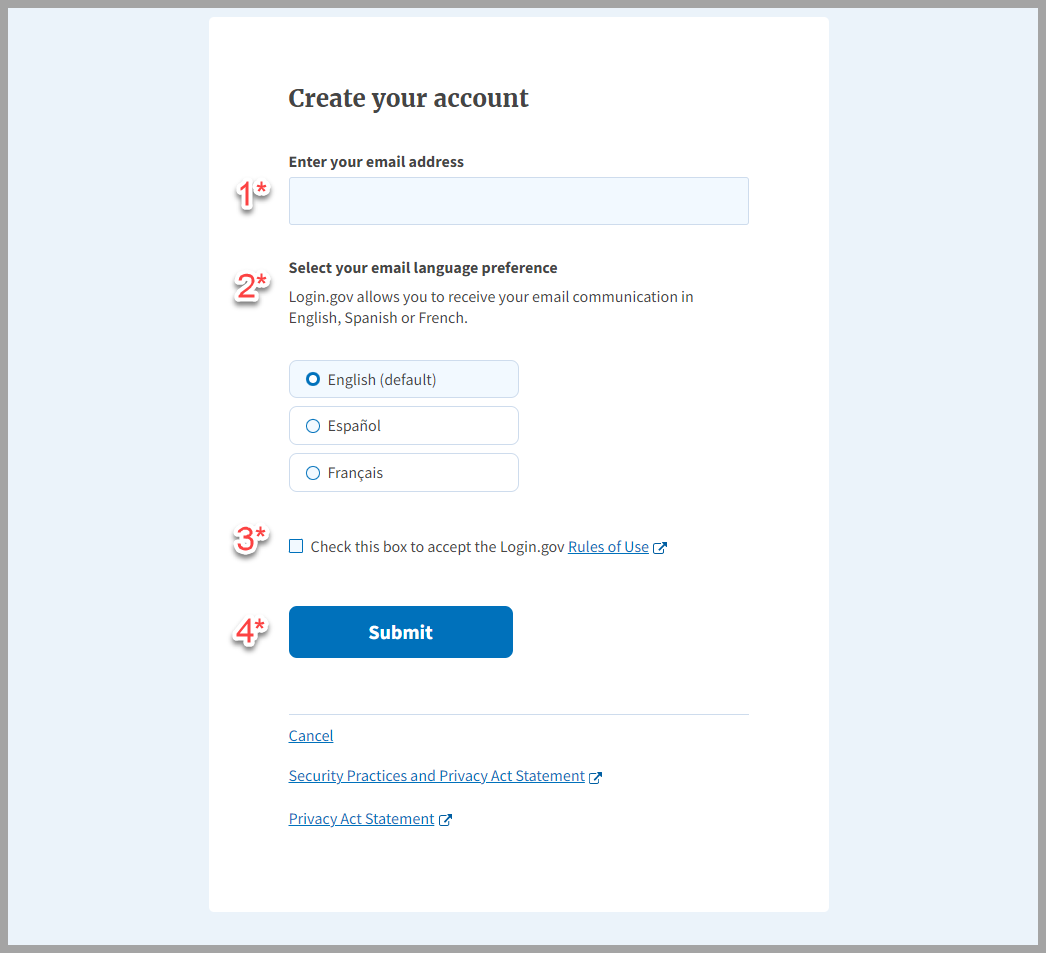 As soon as you sign in, you will be redirected back to your own MyNLRB dashboard on the public website. MyNLRB will let you customize content from various places on nlrb.gov on one personalized dashboard. If you would like to go to the homepage click the blue "Home" button or the NLRB logo in the top left.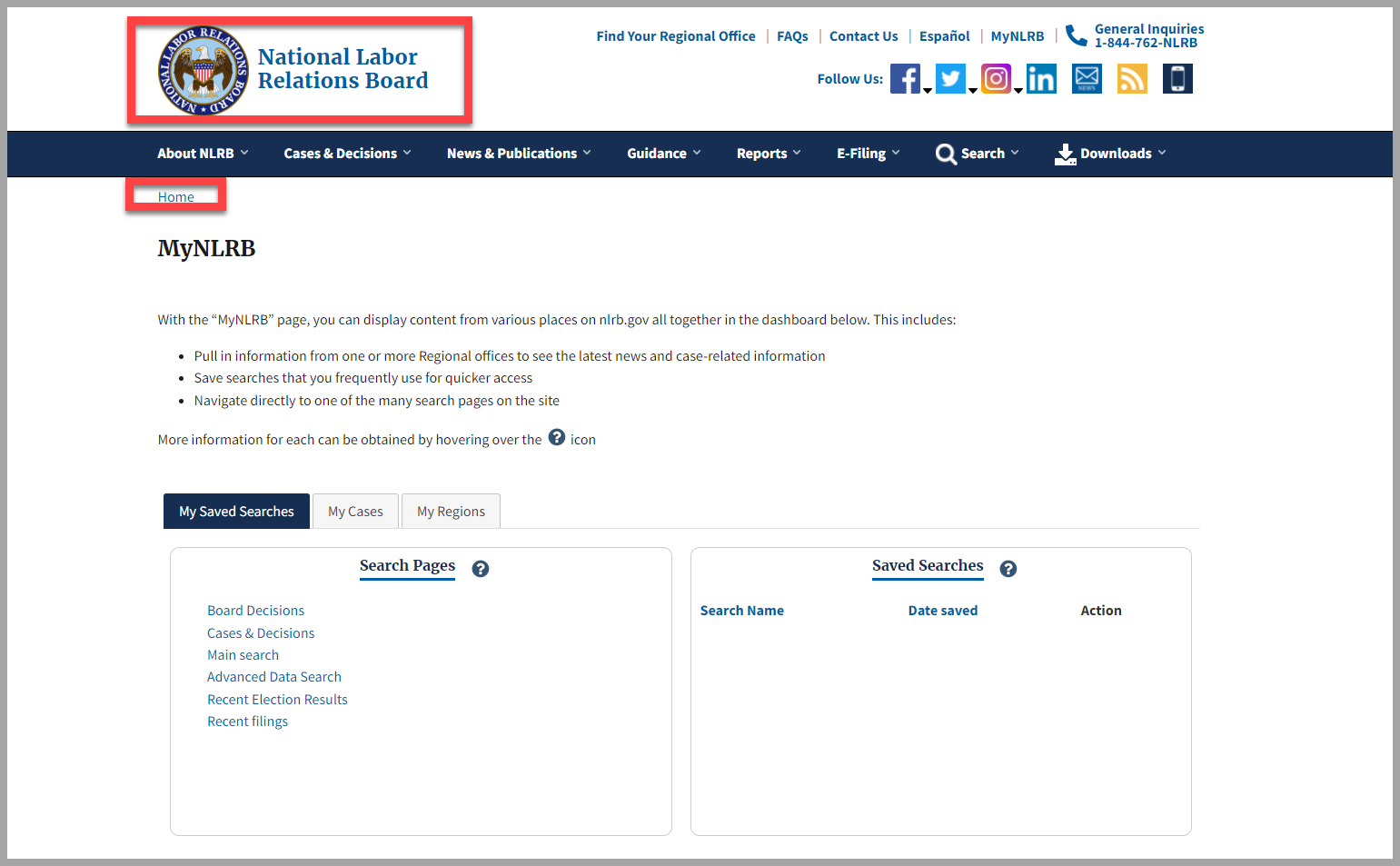 Search
Search helps users identify the most relevant information by combing through thousands of cases and other related documents on the public website. Run a search for a specific case and you'll be able to view that case's information in a matter of seconds.
Search isn't just for cases though; you can search for anything on the public website, like agency information, decisions, news, memos, motions, and weekly summaries.
How to Run a Search
To perform a search, find Search on the main menu of the homepage. Then enter a case name or number, a company, or just a keyword.

The search results page is organized by document type. At the top of the results page, you will see a tabbed interface where you can click on a specific document type to only view those types of documents.

How to Use Filters
If you'd like to narrow down your search ever further, you can use the filters to the left on the search results page.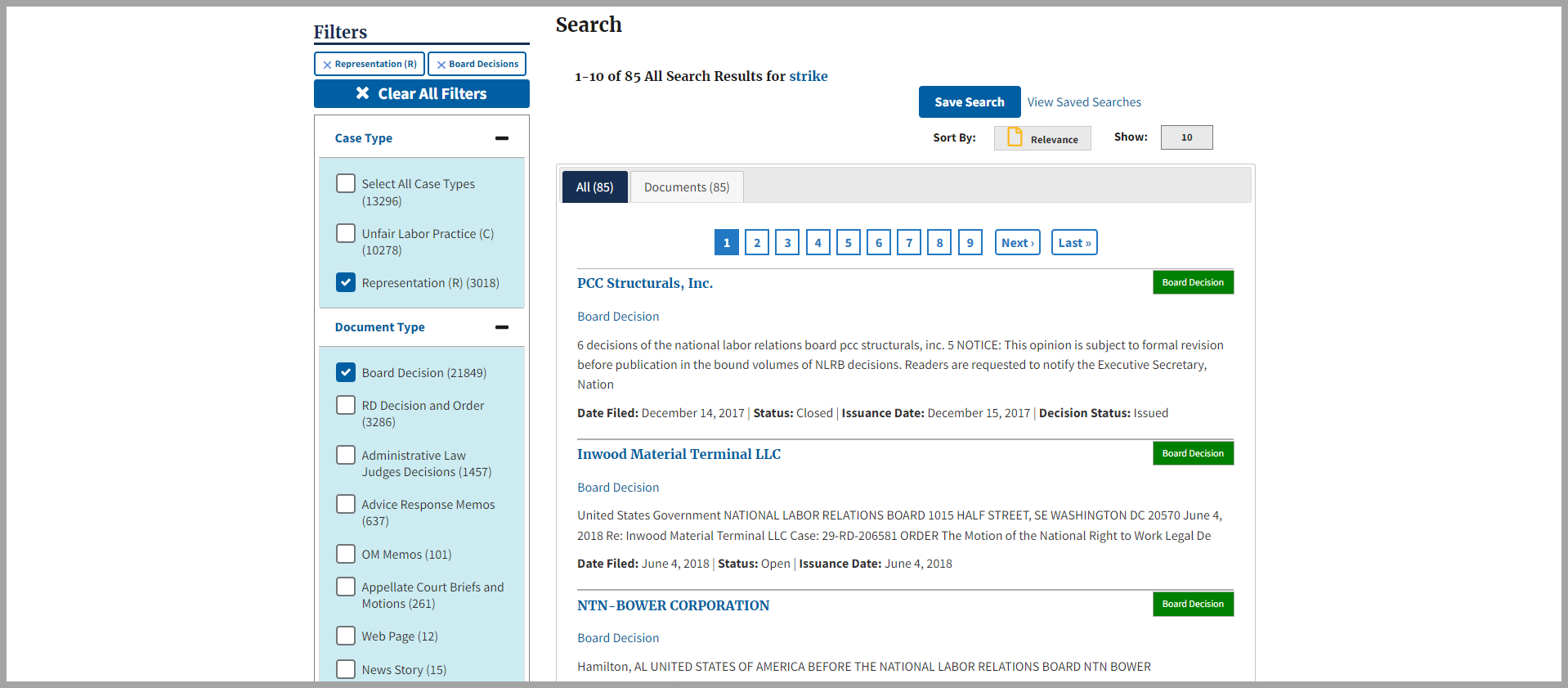 You can filter by Case Type, Document Type, Date, or Region. When you click on a filter, the page will automatically reload with the new results.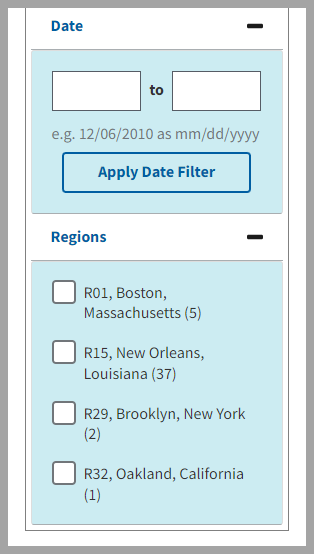 If you would like to get rid of the filters that have been selected, simply click the "Clear All Filters" button. The results page will go back to your original search.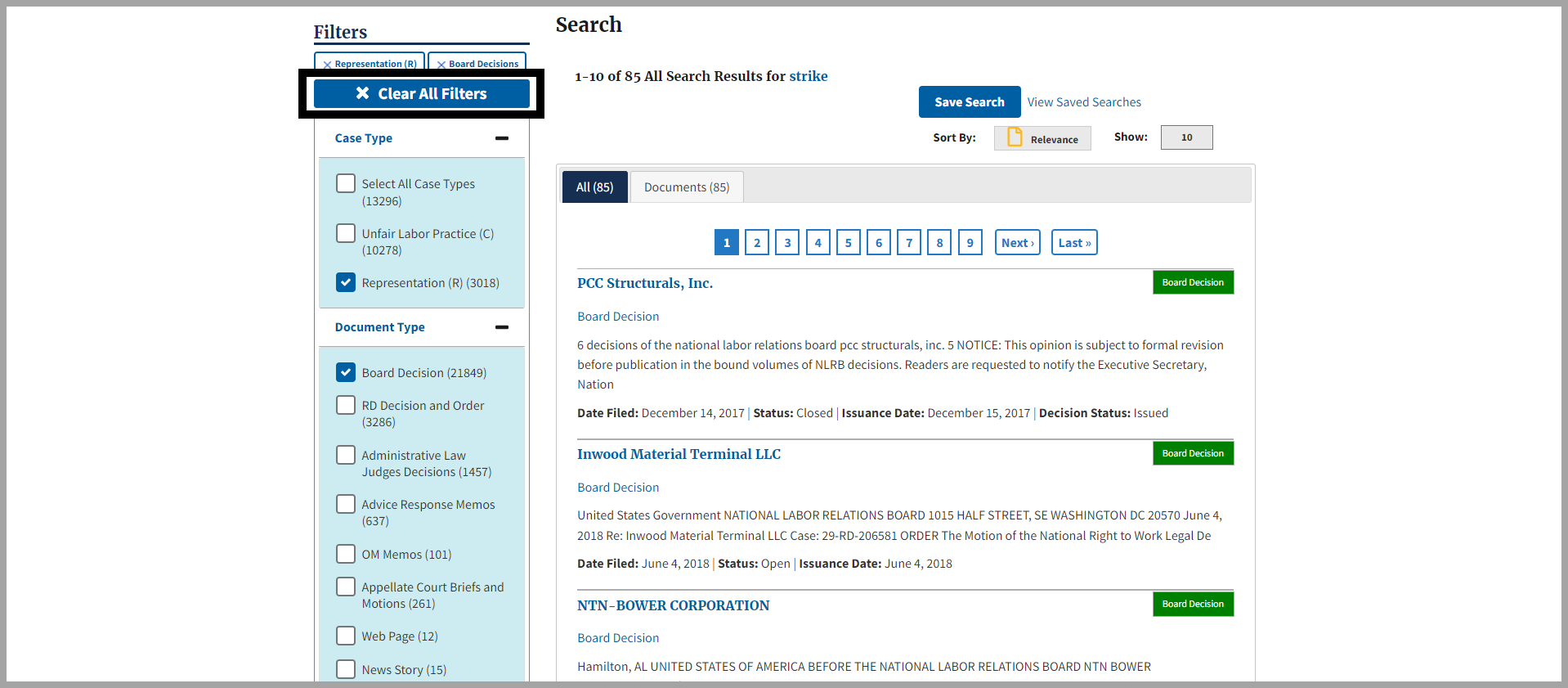 Advanced Data Search (ADS)
Advanced Data Search (ADS) lets users create customized downloadable data sets (up to 100,000 records at a time) from information regarding cases and elections contained in the Agency's Case Management System.
To navigate to ADS on the public website, click on Search in the main menu bar on the homepage. Once the search pops up, click on Advanced Data Search.

Once you are on the ADS page, select a report type from the drop-down list.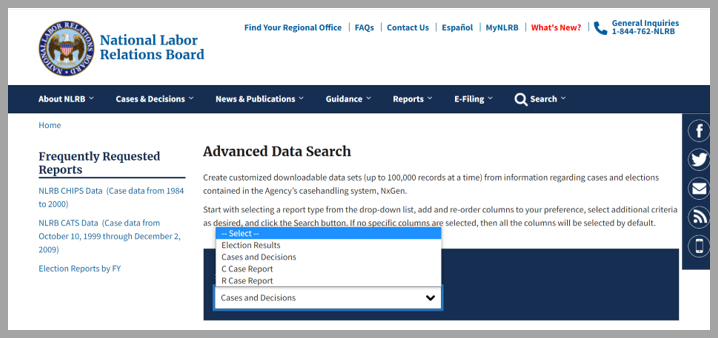 Select and re-order the columns to your preference. Then add any additional criteria that you desire. Click Search. If no specific columns are selected, then all the columns will be selected by default.
After receiving your search results, you can download the CSV.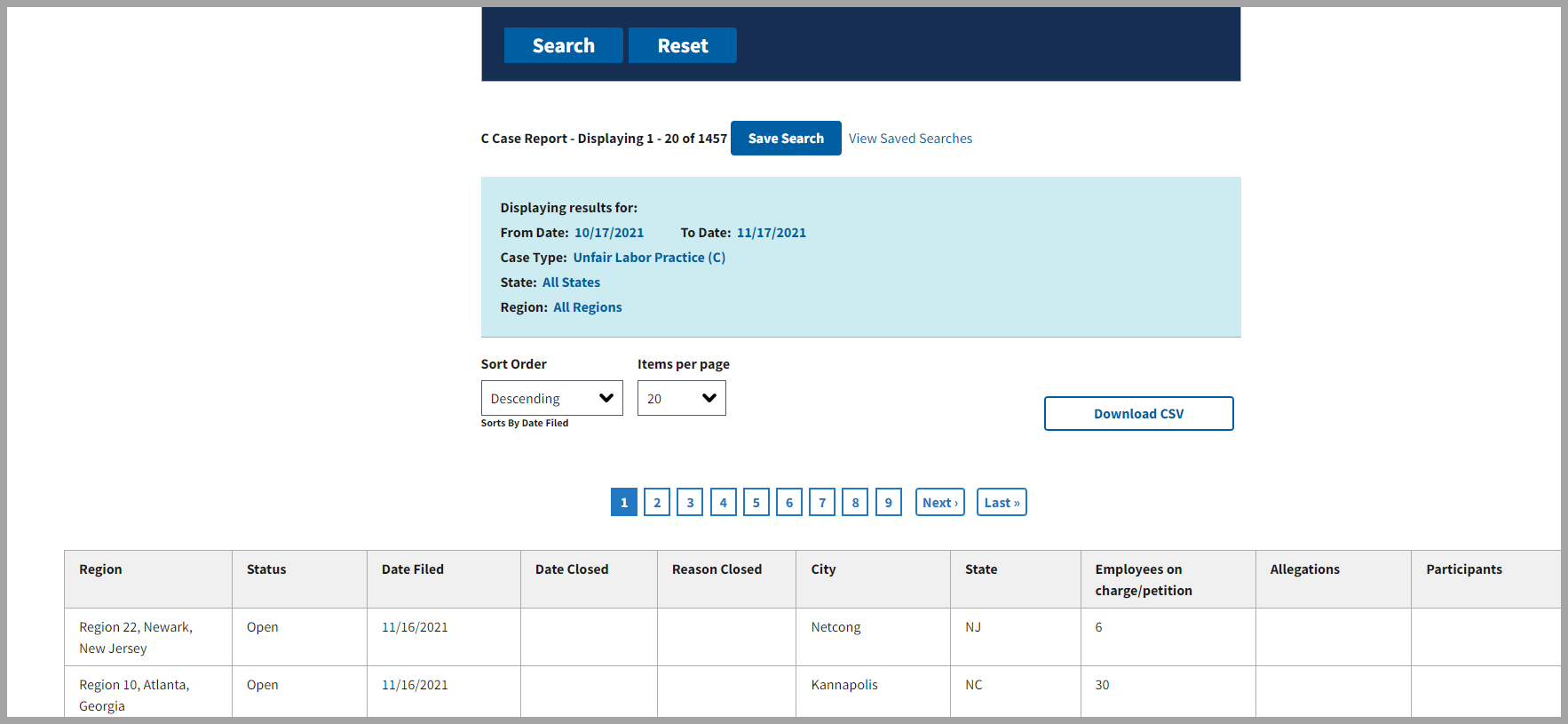 If you are downloading a larger data set, it may take a few minutes. You can continue to use the site as your data set downloads in the download tray at the end of the menu bar.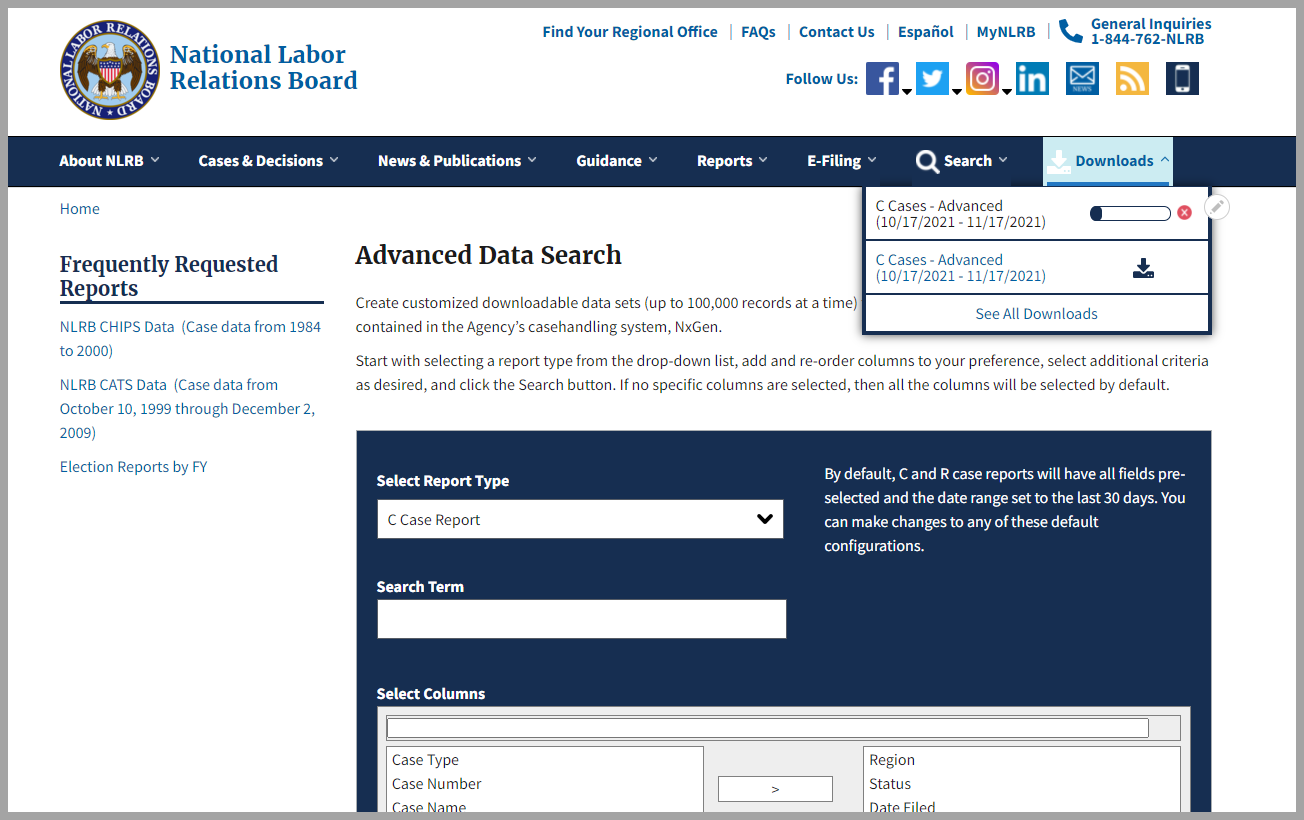 Once the download is complete, your file will load on your browser and be ready for you to view.

MyNLRB
Your "MyNLRB" page will let you customize content from various places on nlrb.gov on one personalized dashboard. 
This includes: 
Pulling in information from one or more Regional offices to see the latest news and case-related information 

Saved searches that you frequently use for quicker access 

Being able to navigate directly to one of the many search pages on the site 

The ability to create a list of cases to follow 
Please click the following link for the MyNLRB Help Guide
---
Regional News & Case-Related Information
If you are interested in what cases are impacting a specific region or you are interested in what's going on in just a few different regions, the My Regions tab will be exactly what you are looking for. 
Your My Regions tab has three sections. In the first section, you will be able to select your default region(s). The case-related information and news from the region(s) you selected will be displayed in the other two sections. 
Select your default region(s)
Regional News section
Regional Case Developments section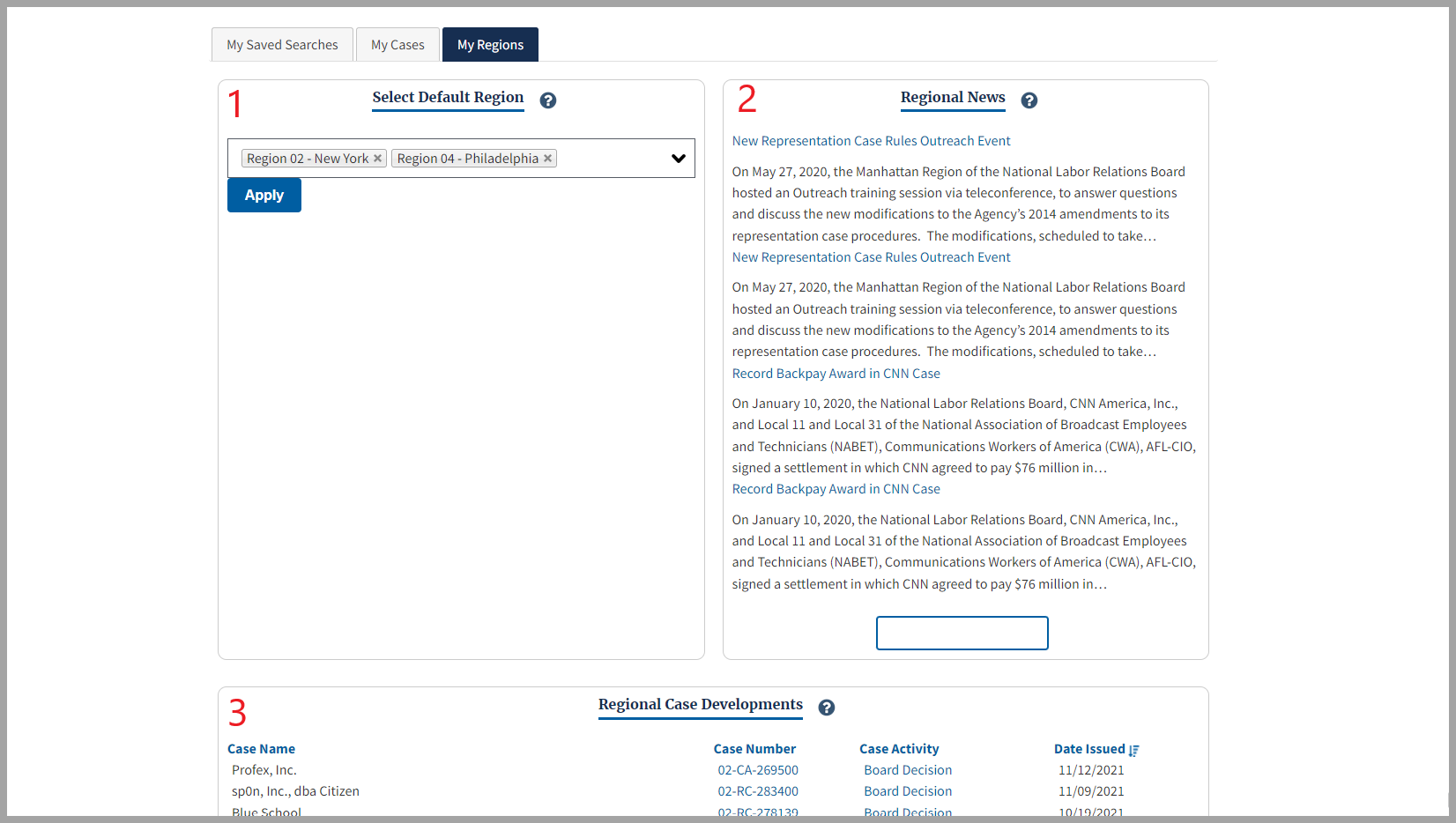 Saved Searches
One of the many features of MyNLRB is the Saved Searches. If you have a search that you run all the time on the public website, MyNLRB will let you save them so they can be accessed quickly and rerun.  
To do this, you need to run your search. Add the filters that you wish to apply to your search. Then click the blue Save Search button at the top of the search page.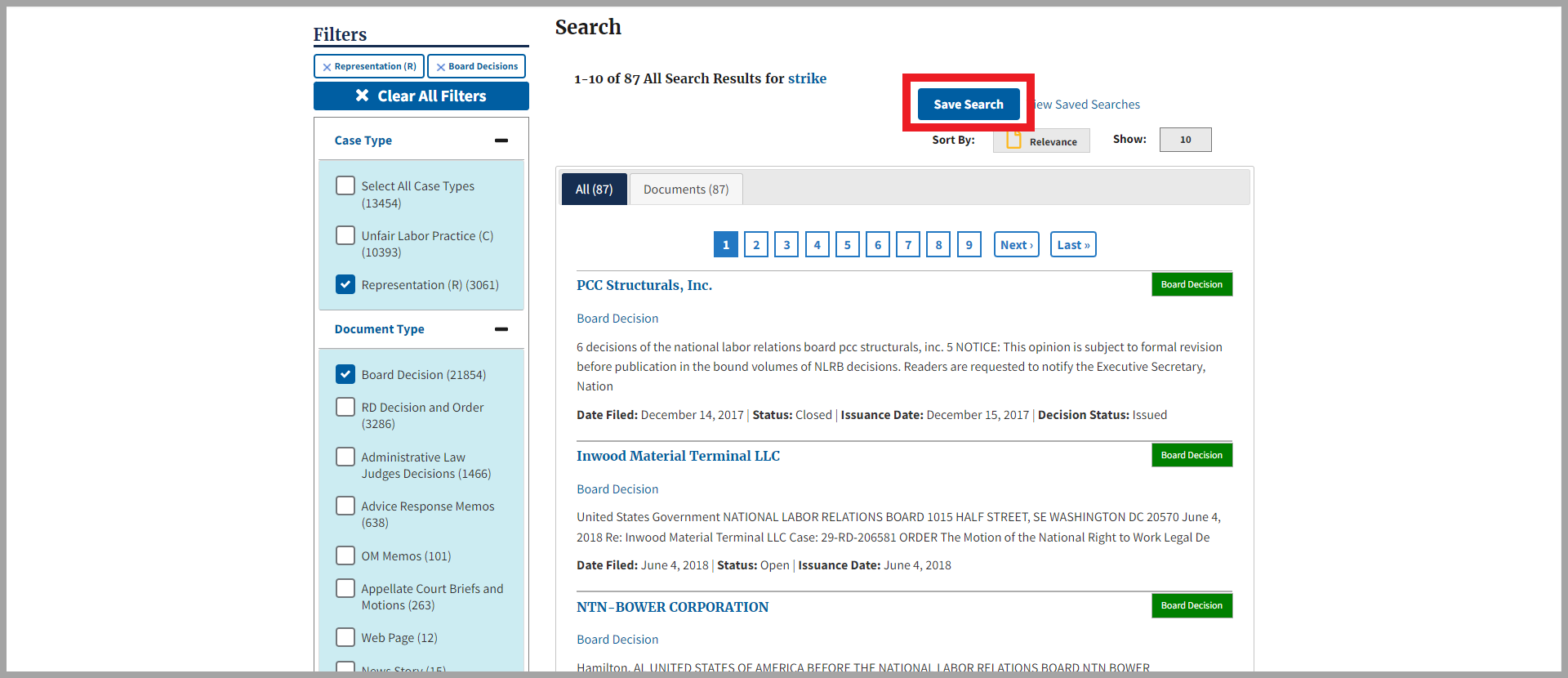 You will need to name your saved search so you can easily recognize it under the My Saved Search tab.

You will notice that there are two separate sections under the My Saved Searches tab. Search Pages shows a list of various pages on the site to search for case and election related information. The Saved Searches section will show the latest search you just saved as well as all your saved searches so they can be quickly accessed and rerun.  

List of Cases to Follow
Perhaps you would like to see a specific list of cases with the latest updates in a centralized place… or maybe you would like to receive notification when updates are made on a case… you can now do both with My Case! 
There are a few different ways to follow a case:
From the Search page
From the Case page
From the My Cases tab on your MyNLRB dashboard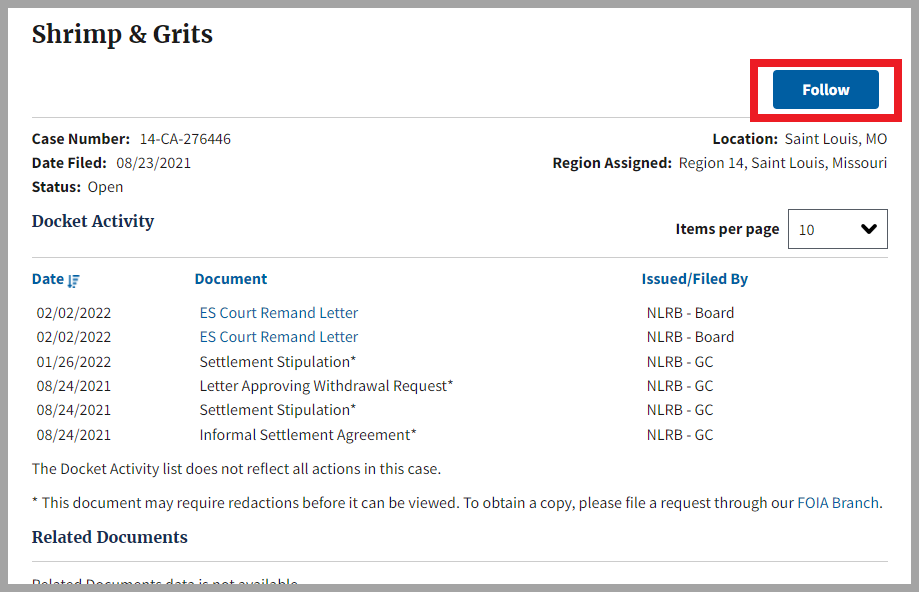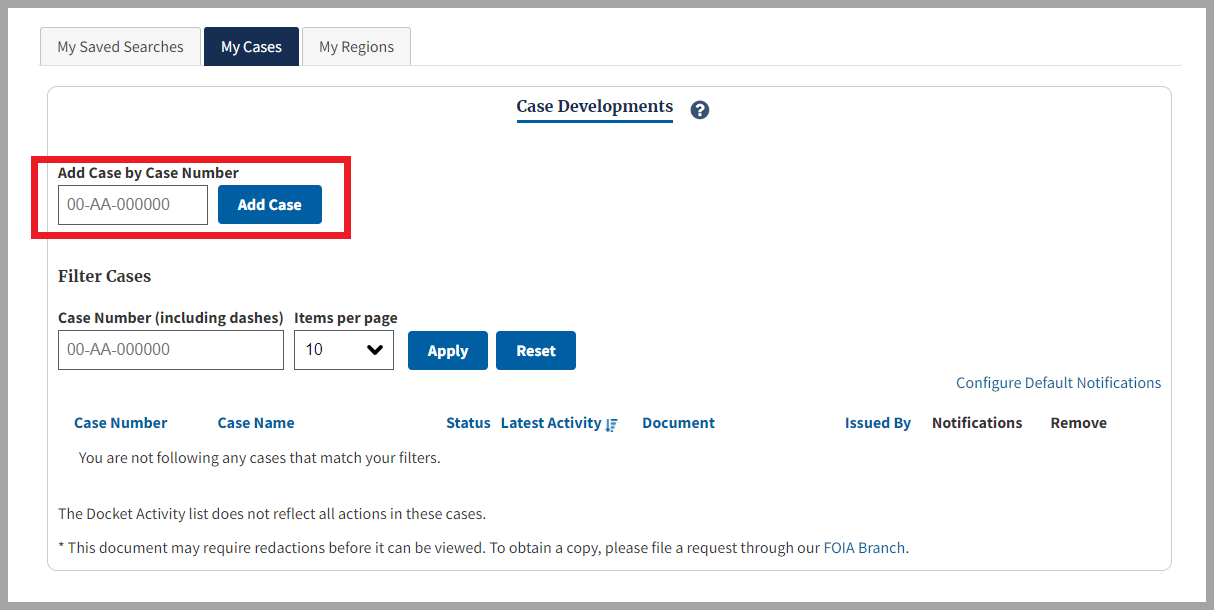 Under the My Cases tab is where you can view the Case Developments for each case that you follow. Your list of cases will be automatically filtered by Latest Activity. However, you can filter this list in many ways.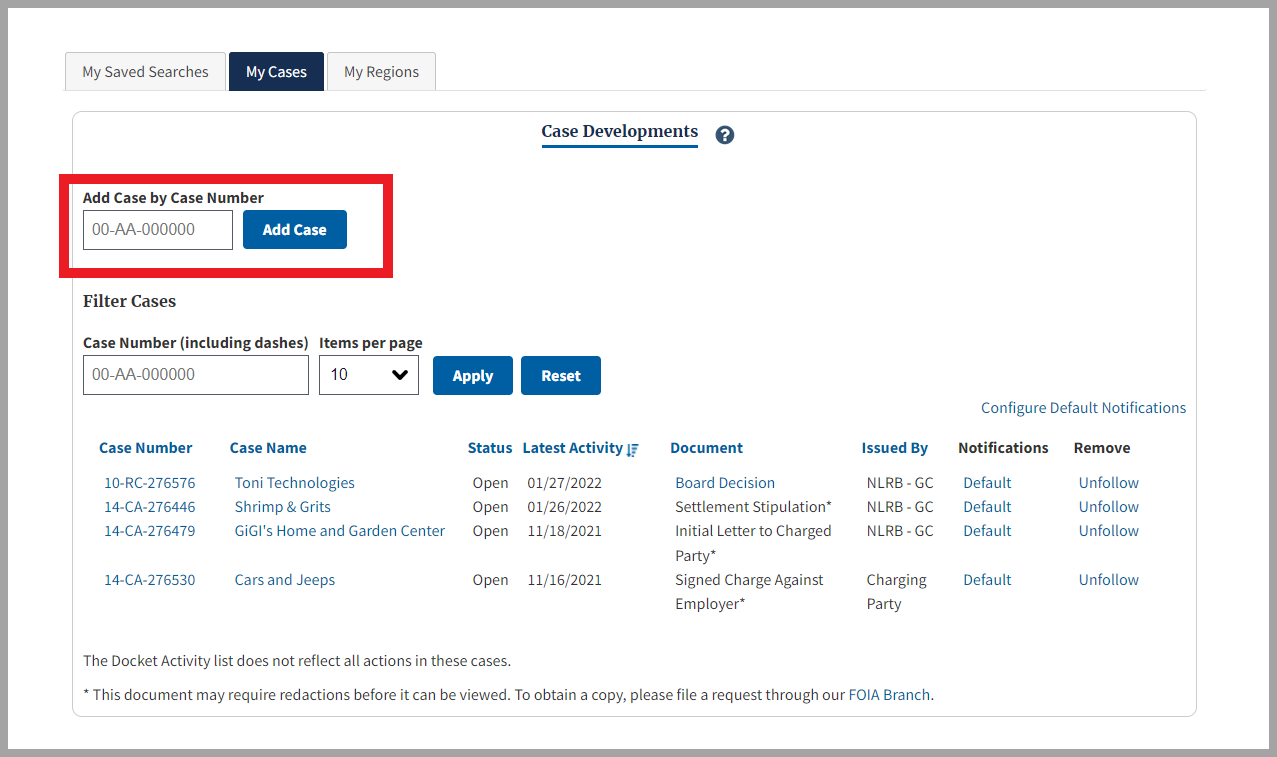 FOIA Guide
The Freedom of Information Act (FOIA), 5 U.S.C. § 552, requires federal agencies, such as the NLRB, to disclose releasable records or to withhold exempt records or information in response to a written request. Agencies may withhold records if the records are protected from disclosure by one of nine specific exemptions of the FOIA.
File a FOIA request here.
FOIA Information can be found here.