Phoenix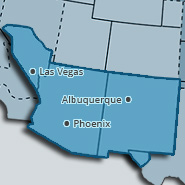 Region 28 serves the states of Arizona and New Mexico, plus the following counties:
In Nevada - Clark, Lincoln and Nye
In Texas - Culbertson, El Paso and Hudspeth
States
 Arizona
 New Mexico
 Nevada
 Texas
About NLRB
Established in 1935, the National Labor Relations Board is an independent federal agency that protects employees, employers, and unions from unfair labor practices and protects the right of private sector employees to join together, with or without a union, to improve wages, benefits and working conditions. The NLRB conducts hundreds of workplace elections and investigates thousands of unfair labor practice charges each year. Region 28 serves areas in Arizona, Nevada, New Mexico, and Texas from its Regional Office in Phoenix and its Resident Offices in Albuquerque and Las Vegas. 
Region Full Name
Region 28 - Phoenix