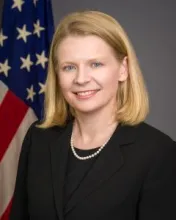 Chairman
Lauren McFerran served as a Member of the NLRB from December 17, 2014 until December 16, 2019. On July 29, 2020, the Senate confirmed her renomination as a Board Member for a term expiring on December 16, 2024.
On January 20, 2021, President Joseph R. Biden named Ms. McFerran Chairman of the National Labor Relations Board.
Previous to her appointment to the NLRB, Ms. McFerran served as Chief Labor Counsel for the Senate Committee on Health, Education, Labor, and Pensions (HELP Committee) and had also served the Committee as Deputy Staff Director under Senator Tom Harkin. She began on the HELP Committee as Senior Labor Counsel for Senator Ted Kennedy. Before her work in the United States Senate, Ms. McFerran was an associate at Bredhoff & Kaiser, P.L.L.C. and served as a law clerk for Chief Judge Carolyn Dineen King on the United States Court of Appeals for the Fifth Circuit. Ms. McFerran received a B.A. from Rice University and a J.D. from Yale Law School.