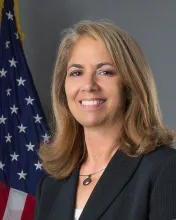 Board Member
Nancy J. Schiffer was sworn in as a Member of the National Labor Relations Board on August 2, 2013, following her nomination by President Obama, and confirmation by the Senate on July 30, 2013, for a term that expires on December 16, 2014.
During Ms. Schiffer's legal career, she has been involved in all aspects of NLRA practice and procedure, starting with her tenure as a Field Attorney at the Detroit Regional Office, Region 7, of the NLRB in Detroit. Ms. Schiffer left the NLRB's Detroit Regional Office to work in private practice with a law firm in Detroit and then as an Associate General Counsel and Deputy General Counsel with the United Auto Workers. Most recently, she was an Associate General Counsel with the American Federation of Labor and Congress of Industrial Organizations (AFL-CIO) in Washington, D.C., a position from which she retired in 2012.
Ms. Schiffer received her Juris Doctor from the University of Michigan Law School, cum laude, and Bachelor of Arts degree from Michigan State University. She is a Fellow of the College of Labor and Employment Lawyers and a past Program Co-Chair of the American Bar Association's Committee on Practice and Procedure under the NLRA.