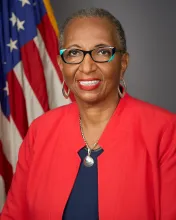 Board Member
Gwynne Wilcox was confirmed by the Senate on September 6, 2023 for a second term ending August 27, 2028. Ms. Wilcox previously served as a Member of the NLRB from August 4, 2021 until August 27, 2023.
Ms. Wilcox is the first Black woman to serve on the Board since its inception in 1935. In November 2021, Wilcox was presented with the Honorable Bernice B. Donald Diversity, Equity, and Inclusion in the Legal Profession Award by the American Bar Association's Labor and Employment Law Section. The award is given to a member, law firm, corporation, organization or academic institution "that has demonstrated leadership in and commitment to advancing diversity, equity, and inclusion in the legal profession."
Previous to her appointment, Wilcox was a senior partner at Levy Ratner, P.C., a New York City labor and employment law firm. While there, she served as Associate General Counsel of 1199SEIU United Healthcare Workers East and as a labor representative to the NYC Office of Collective Bargaining. Prior to joining Levy Ratner, she worked as a Field Attorney at Region 2 of the NLRB in Manhattan. Wilcox holds a bachelor's from Syracuse University, a J.D. from Rutgers University School of Law-Newark, and is a Fellow in the College of Labor and Employment Lawyers.