How to Apply: Applying on USAJobs.gov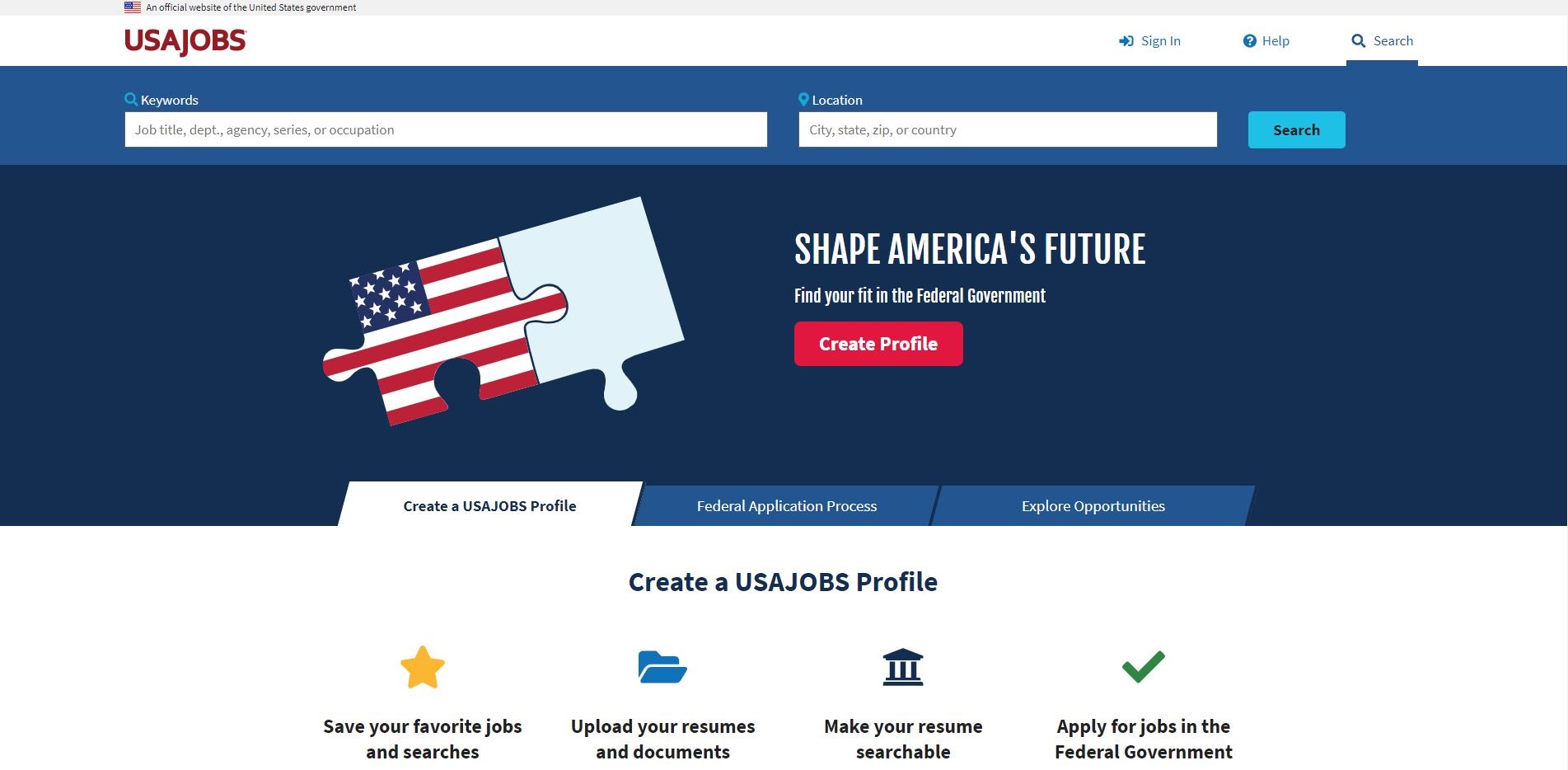 To apply for a position using USAJOBS, first register by going to usajobs.gov and clicking on "Sign In" at the top or "Create Profile" further down the page.
Depending on whether you already have an account with login.gov, you will need to:
Sign into your account or create a login.gov account:

To open a new account you may need your first name, last name, a telephone number, and an email address. Once you have setup a login.gov account. Go back to usajobs.gov to sign-in to your account using the email address and password.
Once Logged-in:
Click Create profile.
Complete your required information - Contact Information, Citizenship and Selective Service information, Federal Service and Military Service. Select "Create my profile" to move forward and complete my profile to provide additional information.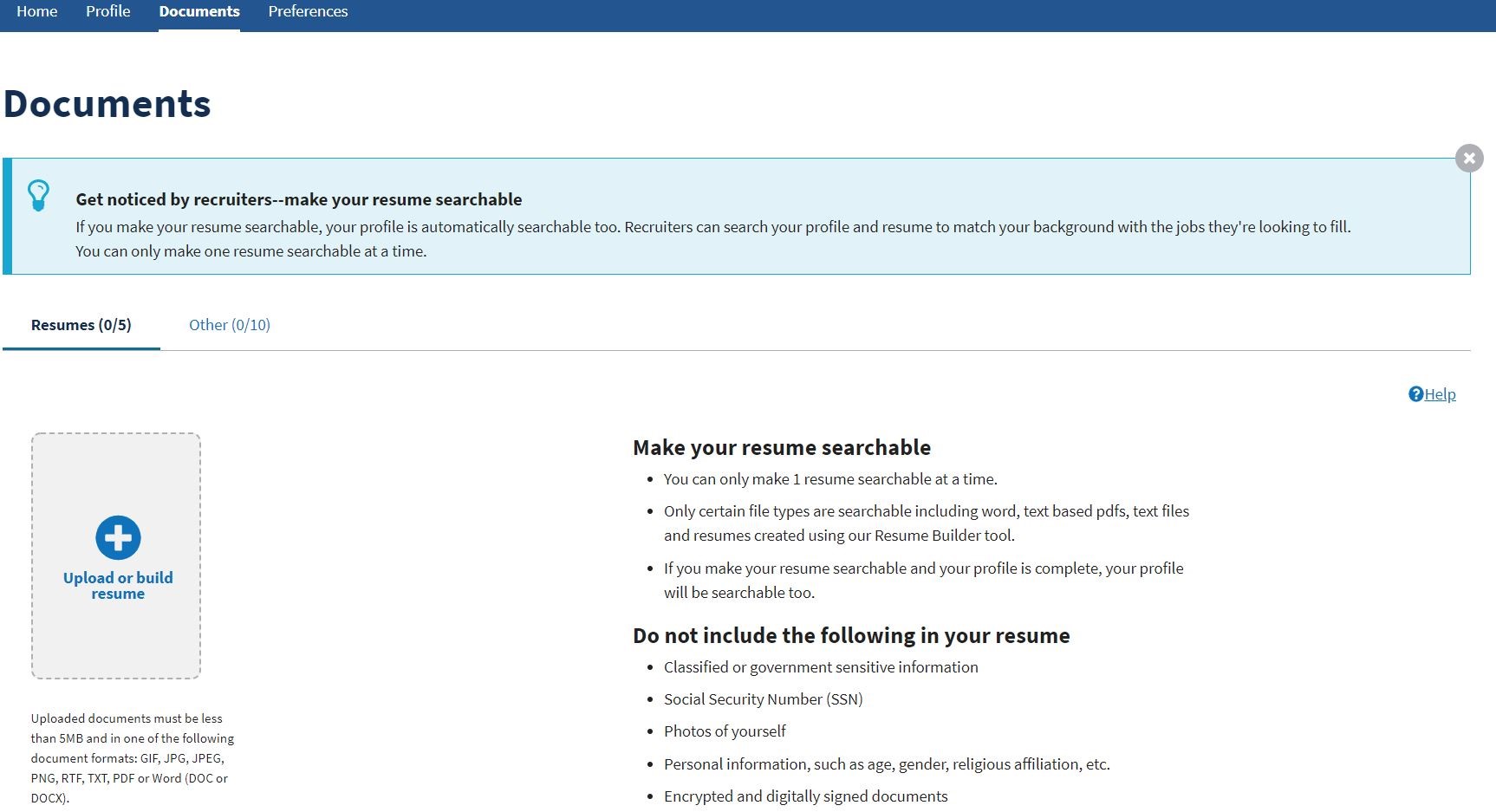 Upload or create a resume:

From "Your USAJOBS Account," select the tab "Documents" to:
Upload a resume in Word, PDF, or another format into your USAJOBS account, or
Build a resume right in your account. You can create and store up to five different resumes, and you can make a resume searchable, so that agencies can find you. Resume Builder Help
Your resume's content should reflect the experience, education, and qualifications outlined in the vacancy announcement.
Note:
The resume you have on file for private-sector jobs may not meet the requirements of the federal job vacancy announcement. The announcement may require that your resume include information like veteran status (if applicable), security clearance, civil service status, College GPA and graduation dates, all training, your supervisor's name, and your hours for all previous work experiences.
Consider developing a federal resume tailored to the job you are applying for, with the announcement number on it. In your resume, use language as close as possible to the language in the "Duties" and "Qualifications Required" sections of the job announcement.

Review the following:
the

entire

announcement.

You will need to follow the "How to Apply" instructions precisely.

Print the instructions if that helps and check off each item as you get it done.
Don't forget to review the "Required documents" section under the "How to Apply" tab. All required documents must be submitted with your application online.

Submitting an Application:
Click

Apply

. The USAJOBS application process will guide you through the five steps:

Select Resume
Select Documents
Review Package
Include Personal Information
Continue Application with Agency
During this step, you'll be asked to certify that your application is true, complete, and made in good faith. If you answer YES, check the box and click Continue to Agency Site. Select Previous if you'd like to go back to review or edit your information.
Once you select "Continue to Agency Site", you'll be sent to the agency application system to complete additional steps.


On the Agency Site, click "Continue" to move forward in the application process. You may be asked to verify Biographic Information that transferred from USAJOBS.

You may also be asked to provide:
some basic personal information;
information about your military service, if any, and whether you are claiming a veteran's preference;
basic demographic information about yourself; and
how you heard about the NLRB.
Make sure you answer any vacancy-specific questions.
as part of the application, you'll be asked a series of questions to assess your eligibilities and qualifications.
On the "Documents" page, you will be asked to submit supporting documentation. Review the "Required Documents" section of the announcement for which you are applying to determine which documents apply to you.

During the final step, you can review your entire application prior to submission. You must click the "Submit Application" button at the bottom of this final page to submit your application.
Confirmation Page: You will receive confirmation that your application has been submitted successfully on this page. You have three options:
Download (we recommend you download, save or print your entire application)
Go to Dashboard (view the status of your applications)
Return to USAJOBS
If there are any questions, you can reach us at careers@nlrb.gov or 202-400-3824.
NLRB Talent Network
The NLRB has a Talent Network for job seekers to
stay up to date on job opportunities